Posted by cardmates.net
Labels: Hand2Note program review
​There are quite a lot of programs for collecting poker statistics. Each program is good in its own way. Today we will talk about Hand2Note (hereinafter – H2N) which you can use legally in most poker rooms, including PokerStars, 888poker, iPoker, PartyPoker, etc. It has a lot of interesting features.
Attention! In order to realize the full potential of the program, you need to use it along with StarsHelper or SessionLord (for PokerStars), PartyCaption (for rooms of bwin.party network), 888Caption (for rooms of 888 network), etc.

​The interface of the program is quite pleasant in contrast to Hold'em Manager for example: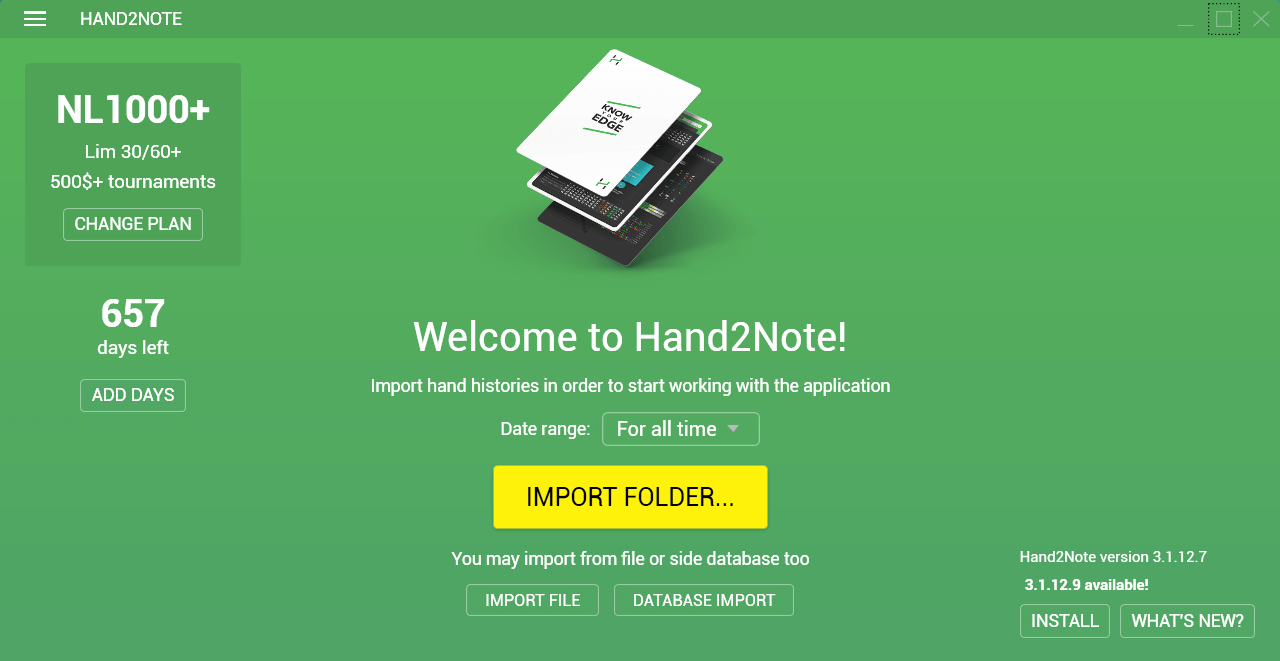 ​Hand2Note features
The main functions that H2N is designed to implement and also a number of unique features that are not available in other similar programs are represented below:
• Dynamic HUD (it is allowed in 888, bwin.party and iPoker rooms) – displays statistics on players taking into account positions, bet sizing, stack size, number of players at the table, streets, etc. You can choose which HUD to use: static (classic), positional or dynamic yourself.
• Exclusive statistics that takes into account a game not with all the players consecutively, it distinguishes between the game versus fish and against regulars (reg vs reg or reg vs fish).
• Minimum requirements for a computer: 1 GB of RAM; Windows 7 and higher.
• A function of displaying the game statistics directly versus you (vsHero) is a very useful feature since poker players don't play identically with all opponents, they adjust to everyone.
• High speed of work due to innovative technologies of data processing and transmission (the program works much faster than the others and it is less demanding on the hardware). On average, a database of Hand2Note takes 250 MB per million hands.
• Viewing of hands with showdown when you were absent (for example, during the multi-tabling).
• Displaying the range of preflop call and raise of players.
• High speed of hands loading when importing from the database – 1500-3000 hands per second.
• A possibility to import the base from Holdem Manager and Poker Tracker
And these are not all advantages of the software.
H2N is a great option for players with slow computers. The program works with a statistics database remotely; it is not placed on your device. Thanks to this the productivity is higher.
Hand2Note cost
There are three plans of subscription for H2N that can be issued both monthly and yearly. Their cost depends on limits you play at: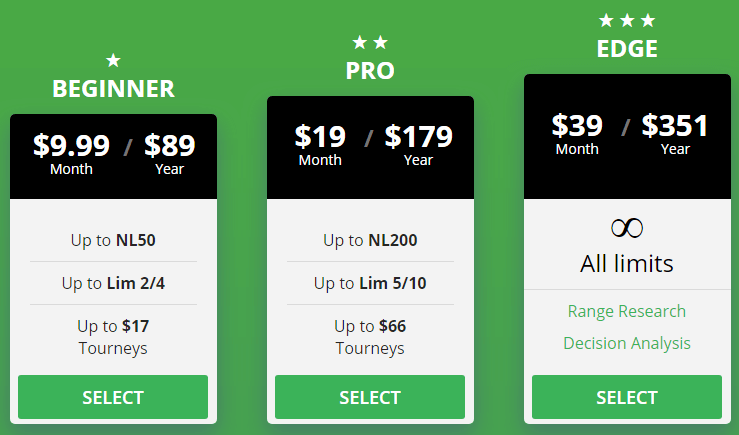 ​We have good news for Cardmates subscribers. If you liked the program and you decided to acquire it, enter a promo code H2N10AQ when buying and get 10% of discount.
There is no lifelong license of H2N yet but you can download the program for free.
How to get H2N for free?
Hand2Note works for free in "Micro stakes version" mode. What does it mean? Use Hand2Note for free at the limits up to NL25, FL1/2 and in tournaments with a buy-in up to 9$. This is a great offer for micro-limit players who have just started to master the poker software.
A free period of using the program without restriction on limits is 30 days (whole functionality is available at all limits except for a Range Research function, which is available only for "Edge" subscription).
Do you want to start right now? Download Hand2Note from the official website and use the program for the first month for free in order to estimate all its features and advantages in practice.
Range Research and Decision Analysis
Let's talk separately about such tools as Range Research and Decision Analysis, which are available only for "Edge" subscription (39$ a month or 359$ a year).
Range Research is a tool for analyzing a range of the players on which we do not have enough hands. The mechanism of work is very simple. For instance, when you have a situation where you need to choose between call and 3-bet, you open a tool window and fill in the required fields. The program analyzes the players with similar indicators and displays the averaged statistics.
Decision Analysis is a tool of research the profitability of your actions in different situations, which includes three functions:
Action Profit – displays what profit you had when collecting different combinations (on big blinds for 100 hands):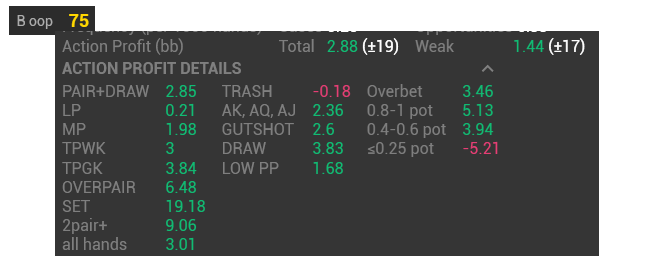 ​Action Profit of your actions is calculated as a difference of your stack at the end of the hand and before committing a certain action.
Spot frequency shows the frequency of occurrence of the certain game situations.

​In the picture above, Spot Frequency shows that statistical indicator "a continuation bet of opponent with no position on you" is 5.34. At the same time, a situation, when the continuation bet was justified (it was not a bluff), has occurred 6.45 times per 1000 hands.
Cases – the frequency of committing the action.
Opportunities – the possibility to commit the action.
Next Villain's Actions. With the help of it you will learn how your opponent will react to your bet.
In the illustration below, a FCR stat (CHECK RAISE) shows a percentage of opponents' fold to your raise / call percentage / raise percentage. BX is Bet and Check.

​Prospects of H2N development
A team that has developed Hand2Note consists of ambitious poker players who play high stakes poker.
This is confirmed by a statement on the official website hand2note.com:
"We are aimed to make Hand2Note the most popular program of poker statistics by 2019."
You have finished the first introduction to Hand2Note and now, if you want, you can start learning the following material "Hand2Note detailed settings" where you will learn a process of installation, application and HUD configurations.
Posted by cardmates.net
Labels: Hand2Note program review